3 SPECIALTIES
Sampling:
Sampling means communicating in a different way through products : to find recognition, showcase the materials, launch a new collection or something completely new… It is crucial to be able to showcase your products for your clientele: see and touch the material is one important step before placing an order. Your samples will be showcased in a professional way if you entrust Ponceblanc to do it.
Advertising cardboard:
Because of its expertise, the company is able to offer you innovative solutions to turn your means of communication into efficient sales tools. Processing cardboard is one of Ponceblanc's specialties.
Subcontracting:
As years went by, Ponceblanc expanded its machine pool. The company is now offering its services as a subcontractor. Always willing to diversify its expertise and gain technical mastery, Ponceblanc Échantillonnage has gained several industrial know-hows: assembling, mounting, thermoforming, numerical printing etc…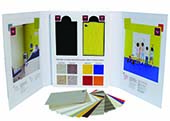 Ponceblanc Échantillonnage offers tailored solutions for your communication tools. We make it a priority to respond to your needs.
Ponceblanc strengthens your sales force.