PONCEBLANC BIOGRAPHY
People have turned to Ponceblanc for shaping, sampling and binding specialties since 1934.
In 1956, the activities are divided: on one side binding and shaping with the brand new company Brochex and on the other side cardboard packaging and sampling with Ponceblanc Échantillonnage.
Ponceblanc offers manufacturers and suppliers to create tailored tools to showcase their coatings.
Our goal is to become your partner in order to offer communication through materials and objects.
Based in the Rhône-Alpes region in the Lyon suburbs with 85 years of experience in a wide range of skills, Ponceblanc Échantillonnage has become a major player in the French market and expands its reach to a European level.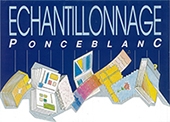 Artwork taken from a Ponceblanc Échantillonnage booklet from the 80's.