PRODUCTION STEPS
Over the years, Ponceblanc Échantillonnage has gained all of the necessary skills to develop communication tools of any kind.
Sampling requires the mastery of many operations. From the conception to finished product, Ponceblanc is present at every stage of your product and controls all of the operations of the production line.
Its expertise allows us to give you tailored solutions to showcase any kind of material: wood, PVC, LVT, laminate, carpet, wallpaper, paper, awning fabric, specific/technical fabric, paint, etc…
Project planning – Model
Graphic design
Printing
Lamination
Pasting
Material cutting
Sizing
Testing
Packaging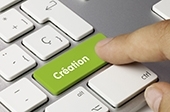 Graphic design: Ponceblanc Échantillonnage has an in-house built-in DTP system that offers great flexibility to graphically adapt your needs.