BINDERS AND PRESENTATION CASE
Ponceblanc Échantillonnage can create tailored binders and presentation case.
These advertising and promotion products can be used as sample cards support or anything else.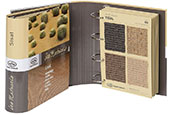 A binder is a convenient support to insert in or take out your sample panes. It allows a modular quality without parallel.