FLEXIBLE COVERINGS
The materials: Flexible materials can be used to cover walls or floors but also furniture or leather articles.
Ponceblanc's work: Whatever the technical characteristics of these materials are, Ponceblanc Échantillonnage is able to come up with a solution to refine them.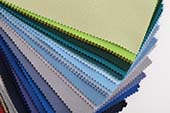 Want to showcase your range of references in a creative way? Contact Ponceblanc Échantillonnage and its team.