GLASS FABRIC
The material: Mainly used for its resistance and covering properties, glass fabric has become a decoration alternative solution to paint due to a selection of prints and other textural varieties.
Ponceblanc's work: Ponceblanc designs your collections to bring out the visual characteristics from glass fabric in the form of a color chart, sample book, card or any other appropriate support.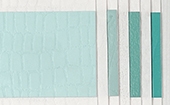 In order to bring out the characteristics of glass fabric, Ponceblanc can offer you a painted version of the samples for the best finished product possible.