LAMINATE PANEL
The material: This decorative laminate panel is a multiple use covering: working surfaces, doors, furniture… it covers many surfaces in order to offer a range of colors and textures.
Ponceblanc's work: Due to unlimited supports, we can showcase a large range of colors by offering tools with a large number of references. Gathering all of your materials into one manageable tool is what we do.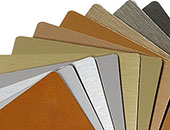 The decorative laminate panel is a material that requires a very precise cut to avoid any chipping. Ponceblanc has everything it takes to deliver the best finishes.