LVT STRIPS
The material: The LVT strips are part of a new flooring generation that combines the best of design and technology.
The wear layer is reinforced which simplify the maintenance and insure the product sustainability. This new material is also easy to lay.
Ponceblanc's work: Ponceblanc Échantillonnage has automatically classified this material with the already processed reference and has adapted the cutting specific to the material.
Being able to offer our clients new opportunities is being able to meet their expectations the best we can.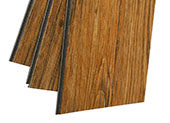 Ponceblanc cuts and pastes a large range of different coatings. It is a challenge for the company to overcome technical difficulties to exceed expectations.