PAINT
The material: Whether it is used indoors or outdoors, paint is a wall covering that seduces with open properties and multiple shades.
Ponceblanc's work: Using Ponceblanc services for the presentation of your paint collection offers your clients the possibility to see the products in an original display. Indeed, we apply the paint on samples that we present in the form of a sample book, color chart or case.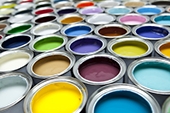 Customers love to see a product output. Applied paint reveals its intensity and aspect.