PAPER
The material: Largely used for mailing or graphic arts, paper comes in many varieties.
It is characterized by its texture, weight, color, flexibility and format.
Ponceblanc's work: Sampling your paper range is a way to make your clients discover the varieties you can offer regarding the weight, colors and grains. Ponceblanc is here to give you solutions for you to display your entire product range while respecting the delicacy of this material.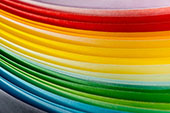 Ponceblanc Échantillonnage may be able to provide strong recommendations regarding the supports you want to use. Our technicians may provide you a model before starting the production.