SAMPLE BOOK, BASES AND WIRE'O BOOK BINDING
Communication through an object is also part of the Ponceblanc Échantillonnage offering.
From more simple products like bases and desk pads to more developed objects like customized sample books, we are able to meet your expectations to create the object you think best represents your company.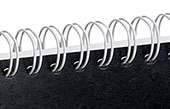 Custom-tailoring is part of Ponceblanc's know-how. Book bindings can be a great option for your collections.