WALLPAPER
The material: The name of wallpaper comes from its composition partly made of paper. What makes it special is a wide range of printing techniques and many prints, colors and also quality. Creative and original, this covering stimulates your home.
Ponceblanc's work: The Company has been designing your wallpaper collections for more than 60 years. Our expertise is based on this material. The biggest manufacturers and suppliers have required our services for their collections.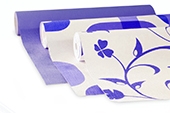 Ponceblanc now wishes to diversify the wallpaper display mode in order to offer original tools to its customers.