ASSEMBLING / MOUNTING

Mounting and assembling are manual operations that Ponceblanc Échantillonnage is able to offer its clients.
Indeed, our team is trained for sample pasting but also for components assembling like compasses. Their expertise is meticulous and efficient for any given task.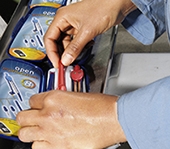 Using Ponceblanc services for these types of operations is choosing the best workmanship.