BLISTER PACKAGING
Blister packaging consists in packaging objects into a thermoformed plastic shell which is sealed to a printed light cardboard.
This operation allows insuring an optimum product presentation and protection.
The company has been offering this type of packaging to its clients since 2002.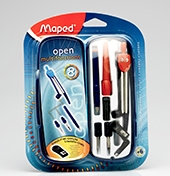 Blister packaging protects and showcases your products. Feel free to ask for an estimate.