HIGH-FREQUENCY SEALING
The electrical energy generated from high frequency allows sealing the materials between them.
This application used for packaging also allows to create plastic envelop fold carton that we include to our collections when necessary.
We offer our clients the manufacturing of their PVC envelop fold carton tailored to their needs whether they are adhesive or not in order to meet their every expectations.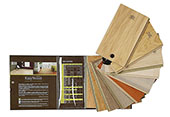 The customized tailored envelop fold cartons can be added into any of your collections. A document like a price sheet will fit in.