THERMOFORMING
Thermoforming consists in giving a desired shape to a plastic material. This operation is used for conditioning in particular for blister packaging.
Our company is equipped with the right machines to perform a quality thermoforming in order to offer our customers this operation to protect their products.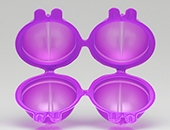 Ponceblanc Échantillonnage uses the thermoforming technique to insert an object into a presentation box or a sample case.