BLINDS
The material: Indoor blinds have various types of materials: aluminium, fabric, wood… Tailored or standard, this covering is a change from regular curtains and is very popular today due to its increased demand.
Ponceblanc's work: In order to meet indoors blinds manufacturers' and suppliers' expectations, our company had to adapt to the various material demand. The cases created by Ponceblanc are a package of different materials rolled into one tool. You can now hold your materials palette in your hand!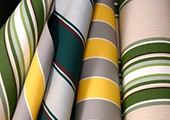 Using Ponceblanc for one's awning fabric or planks range is a chance to be unique and make the created tool a selling point.